Welcome to Yukon Fur!
For over 40 years we have been creating hand-crafted made to measure fur coats of the highest quality in the world.
 The Highest Quality Pelts
Chris Anthopoulos personally selects and purchases only the highest quality pelts directly from the auction houses. This is extremely rare these days as most fashion houses purchase through third parties.
The Widest Selection
Choose from any type of fur, including Sable, Black Velvet Chinchilla and the finest in Blackglama natural pelts. Each pelt is certified with a unique authorized number.

Excellent Workmanship
* A natural talent and passion for fur * 40 years experience in the business * Winner of the American Legend fur design award
Our goal is to satisfy the most demanding customer.
One of a Kind Designs
Every garment is unique, tailored just for you, and includes a Yukon Fur Certificate Of Authenticity that is numbered and signed by Chris Anthopoulos, Master Furrier.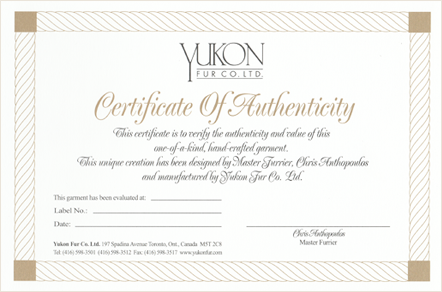 100% Satisfaction Guaranteed!

How can we help you today?
Contact us here: